Acrylic Modular Kitchen Price – Have you ever wondered what the acrylic modular kitchen price should be? Why is it so different from laminates, and how can you know if the acrylic you're paying for is the proper type? In this essay, we address these concerns. Please visit here to learn more about the many acrylic products available, including different sheets and paints.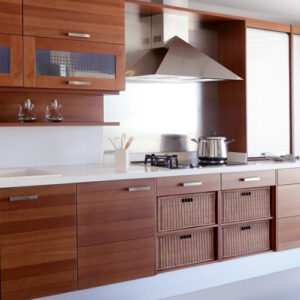 Please feel free to contact us if you need help with your own decorations. You can easily contact us. Many people come to us asking for information about how much acrylic kitchen cabinets for modular kitchens really cost. Sadly, few people understand why acrylic is usually so expensive.
What is an Acrylic Kitchen?
Acrylic is a premium-grade, non-toxic synthetic plastic. A polished texture and a varnished finish are two of the most important features of an acrylic kitchen. To achieve the desired color and texture, acrylic sheets are placed over wood or MDF to form an acrylic cabinet door. You can choose from a wide range of colors and textures for acrylic kitchens.
With Acrylic Modular Kitchen, you can enhance your kitchen. The style may not change, but the shine fades with time. As a reputed manufacturer of Acrylic Modular kitchens in India, Bansal sanitary store supports its clients. The modern Indian kitchen has been completely replaced with acrylic kitchen cabinets. Acrylic kitchens are sold by square foot. The cost of an acrylic modular kitchen ranges between Rs. 500 and Rs. 3000 per sq ft. The cost, size, and type of material used in an acrylic kitchen affect its price.
Tips for Maintaining Acrylic Kitchen
By taking some small precautions, you can extend the life of your acrylic kitchen. Here are a few suggestions:
Any spillage of cooking oil, food, or anything else should be cleaned up immediately with a dry cloth.

Use a mild detergent to remove any stains or scratches from the kitchen surface. Avoid drying it out as doing so will leave marks.

Avoid hanging any wet or damp clothes on any acrylic kitchen surface or hangers. Moisture has the potential to damage the material.

Never use abrasive detergents or cleansers to clean the kitchen.

Never use paper towels, dry brushes, or any other type of tool to remove stains from kitchen surfaces.
Looking for Acrylic Modular Kitchen Interiors?
All pricing listed here is for cast acrylics in the sale. Although extrusion can be 10% to 15% less expensive than cell casting, we do not recommend it. Why? Hence they are of low grade.  Most of the modular kitchens we have in mind have a single internal premise. It is constructe with laminate-finished boiling waterproof plywood. Additionally, the Hatich or Abco brands are believe to be present in all hardware. All finishes are confined to the door. Since they are visible and not covered by acrylic shutters, think of acrylic kitchen shutters and acrylic panels in the kitchen.
If a customer demands extruded acrylic, we usually charge the same fee as laminate and add the cost of the acrylic sheet. You can get a conversion rate of around Rs. It also depends on the acrylic you choose. If you need acrylic for wardrobes or other spaces, please multiply the square feet by 50-100 and subtract the cost of the kitchen to get an approximate estimate. We're not going to talk about how to find out how big your kitchen is in square feet.
Why Choose Bansal sanitary store for Acrylic Kitchen Materials?
Kitchens in the present age are made of acrylic due to their high gloss and reflective properties. They are widely regard in the market as they are easy to clean and wipe down. They are undoubtedly expensive, although it is made of high gloss materials and have excellent style and finishes. However, it is time to consult the experts if you are not sure which material to choose and are confuse about it.
Bansal sanitary store is a Chandigarh-based hardware store providing the best quality hardware products. If you are looking for the best dealer for Acrylic Kitchen Materials then Bansal sanitary store is the best choice. We represent the Millennial generation and cater to their tastes and fashions. Our award-winning designers guarantee that the makeover will be worth every penny and even more so because they appreciate how valuable your money is.
Contact Details-
Name – Bansal Sanitary Store
Address- Ground Floor, SCO 820, NAC Manimajra, Chandigarh, Haryana 160101
Call Us – 095484 84848
Top Related Keywords