Kitchen Wall Tiles Design in India – The Kitchen is the most important part of every house it is the heart and soul of a home and maintaining cleanliness is a tough task. As we know many oily stains are spotted on the walls of the kitchen while making food. Therefore, that provides a dull look to our kitchen. Therefore, kitchen wall tiles are very important because tiles give a fabulous look to our kitchen. So if you want to decorate your kitchen wall and searching for Kitchen Wall tile design in India then no worries. Because you have arrived at a good article where we discuss in detail kitchen wall tile designs.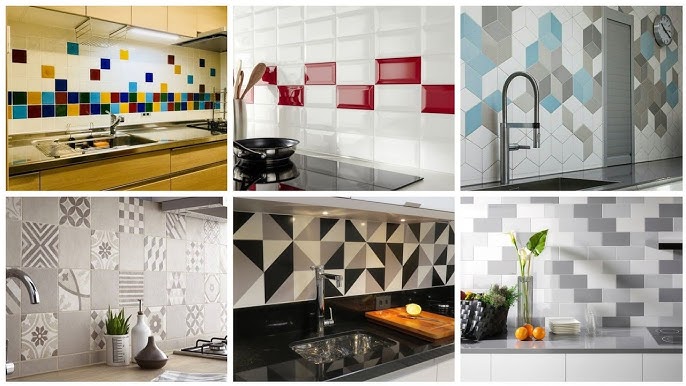 There are varieties of stunning kitchen tiles available that can modify your kitchen's look. There is a large range of tiles with different designs that are made with advanced technology. A kitchen is a place where staining occurs while cooking. Therefore, stain-free and scratch-free kitchen wall tiles are necessary. Vitrified, ceramic, and porcelain are the materials that are used in the manufacturing of these kitchen tiles.
The benefits of Kitchen Wall Tiles
The kitchen is an important space for every home where the area of footfall is high. So it requires tiles that are durable and easy to clean.  Kitchen wall tiles provide a fabulous look to our kitchen and it protects the wall from stains and spots. There are many amazing benefits of Kitchen wall tiles.
Kitchen wall tiles are easy to clean and maintain. Moreover, they do not attract dust or dirt which makes them clean and durable.
A lot of varieties of tiles are available that provide your kitchen with a fabulous look. Kitchen wall tiles are like icing on the cake because they enhance the overall look of the kitchen.
Kitchen wall tiles protect your kitchen from water or moisture that can lead to water damage. Tiles provide a layer of protection that prevents water damage.
Installing kitchen wall tile is a quick and easy process. Among these, these tiles are durable and can be easily cleaned.
If you want to make an aesthetic environment, then kitchen tiles are an ideal material. Because they create a gentle look in your kitchen.
Types of Kitchen Wall Tile Design in India
There are various types of kitchen wall tile designs available in India. All the tiles are in different designs and colors. They are mostly long-lasting, durable, and easy to clean. Tiles are prominent in the kitchen because they witness a higher amount of water.
1- Ceramic Tiles
It is one of the best tiles because they are easy to install and clean. It is the most common type of tile and it is suitable for many applications. Ceramic tiles are perfect for kitchens and bathrooms and it is mostly used in India.
2- Porcelain Tile
This tile is the most common type of tile but it is different from ceramic tiles because it is made with natural stone, bricks, or wood. These tiles come in a variety of designs, colors, and shapes. Porcelain can be used outdoors also because it will never fade, crack, or freeze.
3- Glass Tiles 
Glass tiles provide an aesthetic look to your kitchen. Also, it easily removes the stains of red wines and any acidic foods like lemon and vinegar. This tile is also easy to install and clean.
4- Cement Tiles
These tiles are extremely versatile and come with amazing colors and patterns. These tiles are helpful for making a design in the kitchen.
5- Marble Tiles
Marble tiles provide an instant touch to your kitchen. If you want to add beauty to your kitchen, then marble tiles are the best option for you. Marble tiles are best used in low-traffic areas; they deliver textures and depths and it is either patterned or veined.
6- Mosaic Tile
Mosaic tiles are very popular for their creative designs. Moreover, they are used in interior designs and come in so many different sizes, types, and shapes. These tiles are mostly used in Walls.
7- Granite Tiles
Granite is similar to marble tiles because of its natural flecks but this tile is made from natural stones. Granite is overused tiles in India and looks like a cheaper alternative.
8- Limestone Tile
This is also a type of natural stone. Moreover, it has a truly rustic style and comes with shades and variations. It delivers a natural appearance and is durable but soft. Also, limestone is easy to cut for specific patterns and placements.
9- Travertine Tiles
These tiles are similar to limestone because it is also made of natural stones and they give an aesthetic look to your kitchen. These tiles require extra maintenance because they are easily affected by water and stains.
10- Quarry Tile
Quarry tiles are made from ground minerals like clay, shale, and feldspar. Furthermore, these tiles are burnt at high temperatures. Quarry tiles are naturally dense, nonporous, and extremely low in water absorption.
11- Metal Tile
Metal tiles are mostly used in countertops of kitchens and the cost of these tiles is similar to natural stones. This tile works great on any surface such as the kitchen but it is not recommended for bathrooms.
Conclusion on Kitchen Wall Tile Design in India 
We hope this blog will be helpful for you because we have provided almost every piece of information about Kitchen Wall Tiles Design in India. Whenever you want to buy kitchen wall tiles, then always prefer Bansal Sanitary Store. Because they have a variety of tiles at affordable prices.
Contact Details
Name – Bansal Sanitary Store
Address- Ground Floor, SCO 820, NAC Manimajra, Chandigarh, Haryana 160101
Call Us – 095484 84848
Frequently Asked Questions (FAQs)
Question 1- Who is the best seller of kitchen wall tiles?
Answer –  Bansal Sanitary Store is the best seller of kitchen wall tiles.
Question 2- Does design and size affect the price of tiles?
Answer – Yes, because large tiles are more expensive than smaller tiles.