Wall Tiles Price in India – When it comes to wall tiles, India offers a plethora of options for both homeowners and businesses. There is something to suit every taste, whether you choose simple, classic, or trendy styles. Using wall tiles can add texture, color, and style to any space in your home or company. In this article from Bansal Sanitary Store, we will examine the different types of wall tiles and the Wall Tiles Price in India. We strive to give you all the necessary information to make an informed decision when selecting wall tiles for your home or commercial building.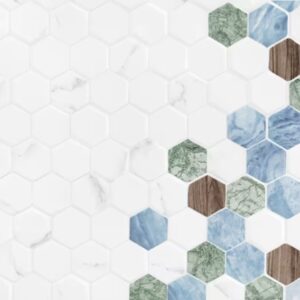 Wall tiles are an important part of interior design. Wall tiles not only improve the look of a space, but they are also durable and easy to maintain. When it comes to buying wall tiles in India, Bansal Sanitary Store is the most trusted source of high-quality products. Bansal Sanitary Stores has many years of expertise in the market and offers the best selection of wall tiles at affordable prices.
Different Types of Wall Tiles That Offer Bansal Sanitary Stores
Bansal Sanitary Store has wall tiles available in various materials and styles, each with its own quality and price range. The following types of wall tiles are most commonly found with us:
Ceramic Wall Tiles – Ceramic wall tiles are a popular choice for Indian homes due to their affordability and customizability. They are available in different sizes, colors, and styles to suit different budgets.
Porcelain wall Tiles –  Porcelain wall tiles are incredibly durable and water resistant, making them ideal for bathrooms and kitchens. Their prices vary according to parameters like size and finish.
Vitrified Wall Tiles – Vitrified wall tiles provide a clean and shiny appearance. They are stain-resistant and easy to clean, making them an excellent choice for contemporary environments.
Wall Tiles Price in India | Cost of Wall Tiles in India
The cost of wall tiles in India can vary significantly depending on several factors, including:
Material – Ceramic wall tiles are generally the least expensive, although porcelain and vitrified tiles are more expensive due to their higher durability and quality.
Size – Larger tiles are often more expensive because they require more material and precision during manufacturing. However, they can cut down on installation expenses.
Finish – Shiny and polished surfaces generally cost more than plain finishes. The price is also affected by the level of glaze and surface treatment.
Brand and quality – Well-known brands can sell high-quality tiles at a higher price. Higher-quality tiles are more durable and wear-resistant.
Design and Pattern – Intricate designs and patterns, particularly those generated using digital printing technology, can be more expensive than plain, solid-color tiles.
Bansal Sanitary Store has a large selection of wall tiles to meet a variety of budgets and tastes. Prices for basic ceramic tiles can start as low as ₹30 per square foot and can rise to ₹300 or more per square foot for luxury porcelain or vitrified choices. When choosing the perfect wall tiles for your project, keep your individual needs and budget in mind.
Buy Wall Tiles at the Best Prices in India With Bansal Sanitary Store
Bansal Sanitary Store invites you on a journey to transform your interiors with the finest wall tiles at unbeatable prices. We recognize the importance of wall tiles in improving the beauty and functionality of your home or commercial project.  Our skilled team is here to assist you in the tile selection process. We are here to provide information and recommendations targeted to your specific needs, whether it is selecting the appropriate tile material, size, or finish. 
We believe that budgeting is an important aspect of every project. That's why Bansal Sanitary Store is committed to providing the best wall tiles price in India. Our pricing strategy aims to cater to a variety of budgets, making it affordable for both homeowners and professionals. Wall tiles start at ₹30  per square foot for a basic ceramic selection, making it affordable to update your space without compromising quality.
Contact Details
Name – Bansal Sanitary Store
Address- Ground Floor, SCO 820, NAC Manimajra, Chandigarh, Haryana 160101
Call Us – 095484 84848
FAQ about Wall Tiles Price in India
Q – What factors affect wall tile prices in India?
A – Prices of wall tiles may vary depending on parameters like material, size, design, brand, and area. Higher-quality materials, such as ceramic, porcelain, or marble, are usually more expensive than standard ceramic tiles.
Q – What is the price of wall tiles in India?
A – The price of wall tiles in India can vary greatly. Basic ceramic tiles can cost as little as $20-30 per square foot, while premium tiles made from materials like porcelain or real stone can cost $100-300 per square foot or more.
Q – How does the size of a tile affect its price?
A – Larger tiles are usually more expensive per square foot than smaller tiles. This is due to the fact that larger tiles are heavier, more difficult to make, and require greater precision in cutting and installation.
Q – Is the price of a tile affected by its design and pattern?
A – Yes, intricately designed, patterned, and textured tiles are usually more expensive than plain, solid-colored tiles. The price may also be affected by the particular finish such as gloss, matte, or satin.