Kohler Dealer in Bathinda – One name stands out as a symbol of excellence in the world of bathroom fixtures and fittings in the city of Bathinda – Bansal Sanitary Stores. As an authorized Kohler dealer, Bansal Sanitary Store is redefining bathroom aesthetics and functionality, offering a diverse range of Kohler products that cater to the tastes of the residents of Bathinda. Bansal Sanitary Ware has become the preferred destination for those looking for the best as a Kohler dealer in Bathinda.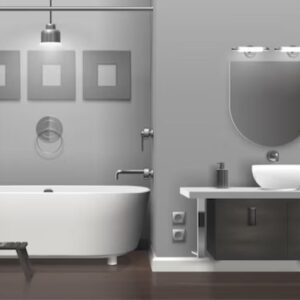 From luxurious bathrooms to elegant kitchen sinks, India's leading sanitaryware and bathroom accessories company, Kohler, has been offering world-class products in India for decades. To make sure you get the best of Kohler's products and services. Bansal Sanitary Store, a Kohler dealer located in Bathinda, Punjab, has been providing quality services to the people of this city for over two decades. 
BSSHomeStore: Your Trusted Kohler Dealer in Bathinda
At BSSHomeStore, you are sure to find exactly what you need for your home. Whether you're looking for a stylish sink, a modern shower system, or a luxurious bathroom furniture set, they have it all. And if you're looking for something a bit more traditional, you can also find some classic Kohler products in their store. 
Moreover, the team at Bansal Sanitary Store is highly knowledgeable and experienced in all things Kohler. They can help you find the perfect product for your home and provide you with helpful tips and advice on how to maintain it. They also offer a wide range of installation services for bathroom and kitchen fittings, so you can be sure that your new Kohler product will be installed correctly and safely. 
 Get Quality Kohler Products at BSSHomeStore in Bathinda
What sets Bansal Sanitary Store apart is its extensive range of Kohler products. From faucets that redefine elegance to sanitary ware that combines form and function seamlessly, the store boasts an impressive collection that caters to diverse tastes and preferences.
Kohler Faucets:
The faucet is more than a functional element; it's a statement piece. Bansal Sanitary Store showcases a diverse array of Kohler faucets, each designed to add a touch of luxury to your kitchen or bathroom. Whether you prefer the timeless appeal of classic designs. The modern aesthetics of contemporary styles, there's a Kohler faucet for everyone.
Sanitary Ware:
Bathroom spaces should be a sanctuary of comfort and style, and Bansal Sanitary Store understands this sentiment. The store's Kohler sanitary ware collection encompasses a range of designs, from minimalist to opulent, catering to every customer's unique vision for their personal space.
Kohler: Bathroom Solutions to Fit Your Style in Bathinda
At Kohler, we understand that the bathroom is one of the most important spaces in your home. That's why we offer a variety of bathroom solutions to fit any style in Bathinda. From modern and sleek designs to traditional and timeless styles, our selection of bathroom fixtures, furniture, and decor. We provide the perfect finishing touch for your home. With Kohler, you can rest assured that you'll find the perfect solution for your bathroom that meets your needs and fits your style. Visit your local Kohler showroom in Bathinda today and see the difference quality bathroom solutions can make.
In conclusion, Bansal Sanitary Store is not just a Kohler dealer in Bathinda; it's a destination for those who seek to elevate their living spaces. With a legacy of excellence, a commitment to community, and a vision for the future. Bansal Sanitary Store stands as a cornerstone in the city's journey towards modern, luxurious living.
What Makes Bansal Sanitary Store a Trusted Kohler Dealer in Bathinda?
Bansal Sanitary Store is a one-stop shop for all your Kohler needs. The store stocks a wide range of products, including bathroom fixtures, sinks, bathtubs, showers, faucets, and accessories. They also offer a selection of decorative items such as mirrors and lighting fixtures. All products are designed to meet the highest standards of quality and durability.
Complete Bathroom Solutions 

Free Consultations for Modular Kitchens 

Noise-Free UPVC Windows/Doors 

Full Home Interior Design Solutions 

3D Rendering and 2D Work Inhouse 

Products Offered at Industry-leading Prices 

Wide Variety in Terms of Style and Design
Bansal Sanitary Store offers a wide range of products for customers. They provide products from major brands and offer installation services.  Products include wall and floor tiles, wooden flooring, aluminum UPVC windows/doors, modular kitchens, wardrobes, and more. Customers can also get 3D renderings and 2D work done in-house.
Contact Details-
Name – Bansal Sanitary Store
Address- Ground Floor, SCO 820, NAC Manimajra, Chandigarh, Haryana 160101
Call Us – 095484 84848